What types of clients do you work with?
We specialize in helping mission-driven companies, social enterprises, and nonprofits, though our clients come from a variety of industries including conferences and events, tourism and travel, and health and wellness. 
Our business model, pricing and approach are best suited for established small to mid-sized businesses and organizations. 
We prefer to work with companies that have at least one dedicated staff-member who is responsible for coordinating marketing efforts.
Why is hiring an agency better than hiring someone in-house?
Honestly, it is not always the best decision to hire an agency. If you want the flexibility of having your digital marketing taken care of by experts, without committing your resources to building your own digital marketing department, then hiring an agency might be the best decision for your organization. 
Many of our clients do have in-house marketing staff, but outsource specific services to the experts on our team. Perhaps your team is brilliant at social media marketing, but lacks the capacity to execute Google Ads campaigns or write long-form thought leadership content that will attract qualified leads to your site. Some organizations manage their own organic social media posts to tell the story of their brand on a day-to-day basis, but hire JB Media to handle their paid social media advertising. 
If you are unsure if handling an agency is the right decision for your organization, feel free to reach out to us and ask questions. We are happy to talk with you to see if we are the right agency for your needs.
What does your new client onboarding process consist of?
First we will deliver a Google Doc that contains a series of questions that will help us better understand your brand and your needs. We'll ask you about your goals for digital marketing, your company's expertise and unique value in the marketplace, and your target audiences.
We'll also ask that you provide us with your branding guidelines, graphics and other necessary assets, examples of other current marketing efforts, and any supplemental research we might need.
Your team will also need to grant us access to any necessary accounts. This list may include Google Analytics, Google Search Console, email, social media accounts or others depending on the kind of work we are doing for you. We will offer instructions for how to give us access and can provide additional assistance if you need help with that. 
After the onboarding documents are filled out and all necessary access and materials are provided, we will kick off your contract with a meeting involving all important stakeholders from your organization and your JB Media project team.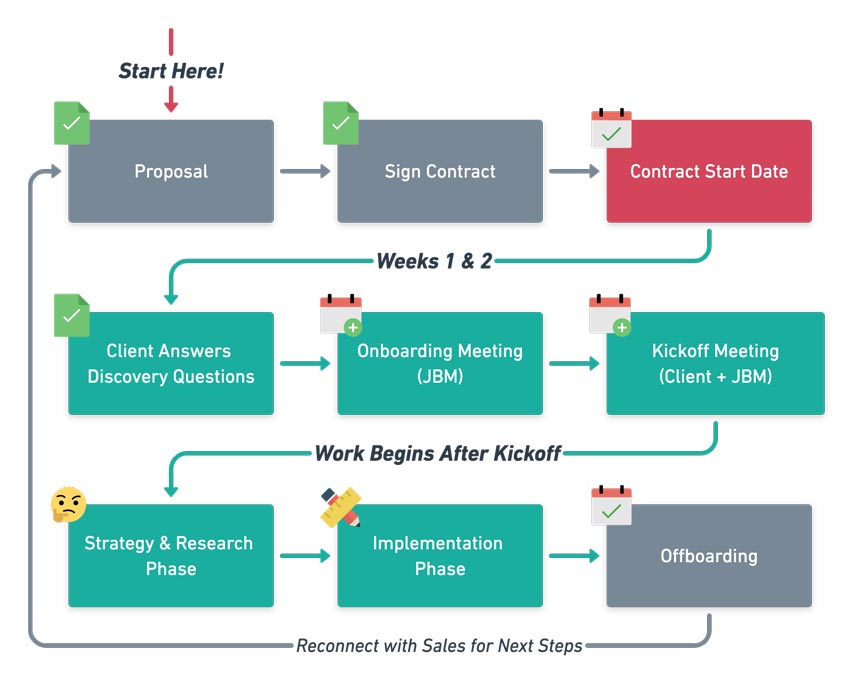 What is your digital marketing campaign execution process?
After our kick-off meeting, our team will dive into all relevant websites, accounts and perform any of the research and/or audits in your contract. 
Once we have determined the best opportunities for growth through digital channels, we'll review our findings with your team and propose our strategy and tactics. 
Once you approve, we'll get to work on creating any necessary graphics and/or copy. We will share any creative and copy to your team for review and feedback. After we receive your approval we will implement the strategy.
Does your agency specialize in content marketing?
Yes, we have a team of skilled researchers and creators who can research and ghostwrite any kind of content marketing you need including thought leadership pieces, editorials, white papers, research briefs, case studies, educational resources and more. 
Check out our Content Marketing Strategy page or contact us to discuss your specific needs.
Why is SEO important?
People turn to search engines like Google to get answers to their questions, research products and services, and find valuable information and entertainment. 
The people who represent your focus audiences are already online looking for information relevant to your organization or business, even if they have never heard of your brand or organization before.  
By optimizing your website and your content for search engines–and the people who use search engines–SEO can help your website content become more easily discoverable by the people you most want to attract. 
That can bring you more website traffic and better qualified website traffic while raising the profile of your brand through "organic" search engine results (not paid advertising). 
What is your SEO approach?
We believe that the only kind of content worth producing, including SEO content, is material that provides real value to your focus audiences, serves one of your goals, and highlights your unique expertise, authority, and trustworthiness. 
We will begin by working with you to understand your brand, your goals, your unique value proposition, and the needs and wants of the people who are most likely to become your best customers, clients, donors, volunteers…etc. 
We can analyze your website to see if there are technical barriers, missed opportunities, and low-hanging fruit preventing you from attracting more traffic through search engines. 
We can look at the competitive landscape for the best opportunities for your brand. 
Our SEO strategies may include specific recommendations for changes to your website, updates to existing website content, and/or the creation of new content focused on specific keywords and topics.
What is the difference between Local SEO and general SEO?
Local SEO tactics help increase your brand's visibility and findability for folks in your local region–not nationally or internationally. You know when you look up a specific kind of service on your phone and Google suggests a few businesses that perform that service? Local SEO tactics can help your business show up there too. 
If your business is a brick and mortar store and/or focuses only on one specific local area (a neighborhood, city, or town) and you aren't seeking any new clients, customers, or other leads outside of that geographic area, then you should most likely focus your efforts on local SEO first. 
General SEO can help your website and site content reach people outside of your geographic location who are seeking the products, services, expertise, and knowledge that your organization provides. 
JB Media currently focuses on general SEO, not local SEO. If you need a local SEO referral, we may be able to recommend one of our referral partners. Contact us.
Paid Advertising & Retargeting
What paid advertising and retargeting services do you offer?
We offer many paid advertising services through Google Ads, Facebook, Twitter, LinkedIn, Instagram and Choozle. Choozle, Google Ads, Facebook, and Instagram allow us to run retargeting campaigns.
What is your partnership status with Google?
We're up to date with certifications with Google Ads and Google Analytics.
How does a paid search campaign work?
Paid Search works by creating text ads that show up in search results. We use keywords to trigger these ads, by placing bids on them so when people search for these keywords, ads will show up and hopefully acquire clicks.
When will I see results from paid search advertising?
We can begin tracking the performance of your paid search advertising campaigns as soon as they go live. Our Google Ads team will monitor the performance of your ads and make adjustments to optimize results along the way.
Is my nonprofit organization eligible for a Google Ad Grant?
We created a Guide to Google Ad Grants that answers this and other common questions that nonprofits have about Google Grants in depth. 
The short answer is that, according to Google's rules, in order to be eligible for a Google for Nonprofits account organizations must:
Be registered as a charitable organization in one of the countries listed below. All organizations must be verified as a nonprofit organization by

TechSoup or the local TechSoup partner

Meet the requirements in its own country. Sometimes countries have additional eligibility requirements. Find your country in the list below to review the additional requirements.

Agree to the

Google for Nonprofits Terms

. 
You are not eligible for Google for Nonprofits if your organization is:
A governmental entity or organization

A hospital or health care organization (charitable arms or foundations associated with healthcare organizations are eligible).

A school, academic institution, or university (philanthropic arms of educational organizations are eligible).

Learn more about Google for Education

, Google's programs for educational institutions."
What part of the Google Ad Grant process can you help us with?
Once you have joined Google For Nonprofits and have your nonprofit verified by TechSoup, then we can help you apply for the Google Grant, perform your keyword research, craft your strategy, build your ads and campaigns and implement the strategy. 
What will it take for our nonprofit to get the full monthly benefit of our grant?
You will need to track meaningful conversions, and make sure you have enough high quality pages on your website, rich with SEO optimized keywords so that the campaigns can use them as landing pages for the ads.
What social media sites do you work with?
We primarily use Facebook, Instagram, and LinkedIn. We also have experience making strategic recommendations for Twitter.
Will social media work for my business?
It depends on your goals! As a marketing tool, social media is best used to: 
drive traffic to websites

drive sign-ups to events

encourage purchases and other conversions

generate leads

increase brand awareness

and to make connections with people, communities, and partners.
How does paid social media advertising work?
Social media advertising can be a great way to generate leads and attention, but it can also require time to produce results, depending on the product and unique customer journey to make a sale or signup for something. Social media advertising often creates a lot of attention that converts slowly over time.
Read our Social Media 101 resource on our Client Resources page.
Why is email marketing important?
Email marketing is an important part of a comprehensive digital marketing strategy. As an important form of online communications and content marketing, email marketing involves sending specific information to a select group of people who have given consent to receive emails.
Do you offer email marketing strategy and campaign creation?
Yes! We have experience with Mailchimp, Vertical Response, Constant Contact, Pardot, Ontraport, HubSpot, and more! 
We are able to customize our strategic recommendations to help you achieve your goals whether it is list building, content promotions, event marketing, or partnership collaborations. We offer content calendar recommendations, list management, reporting, and automated workflows. Customized templates can be created based on the type of content or brand messaging needed to reach your audience.  By examining your current email marketing campaigns  and metrics, we are able to provide immediate steps to take along with longer term strategic recommendations to support your goals.
What's the ideal email list size?
The ideal list size depends on your goals. We can work with a variety of sizes. If you are looking to grow your list – we can help map the way. Working collaboratively across multiple services areas, we are able to collaborate to build your brand and your audience. We have worked with startups, mid-tiered companies looking to expand, and well established teams dedicated to sharing the right content to the right people.
How many emails do you send every month?
This all depends on what you need! 
It takes a lot of work and care to grow your list — and it is important to nurture your audience and respect their inbox. Based on our goals, your content, and your audience – we are able to map out what content is best to send and when. While there are some basic "best practices" – this is not a one-size fits all scenario. We recommend closely watching your campaigns, the open rates, and overall engagement to be sure the information is resonating with your audience, and they remain engaged. Keeping your list happy and healthy is very important for success.
Do we need to comply with GDPR and other privacy regulations?
The General Data Protection Regulation (GDPR) is a privacy regulation that will apply to all companies that sell to and store personal information about citizens in Europe, including non-EU companies around the world. While GDPR regulations are not absolutely required by all entities at this time, it is important to consider the privacy of all individuals within your list. Similar regulations are currently in place in the state of California. Building trust with your audience is important – and we recommend that you respect the privacy of your list. While we strongly recommend involving your legal department, we have created a document that contains more about the legal issues and best practices.
Do you provide digital marketing training?
Yes! Our digital marketing experts are also educators. We make sure you understand what we're doing and why—and we prepare your team to pick up where we leave off. We offer one-on-one training, ongoing coaching, and the JB Media Institute to grow your in-house capacity.
Does your agency offer services that target Conversion Rate Optimization (CRO)?
Our Website Design Audit examines your site with a focus on user experience and funneling visitors to your call to actions (CTAs). We'll provide you with a punch list of specific recommendations that follow industry best practices aimed at increased conversion rates. Additionally, we can dig deeper into the data by setting up and analyzing heatmaps and screen recordings (using Hotjar), as well as user journeys and completed goals (using Google Analytics and Google Tag Manager).
We do not currently offer ongoing CRO implementation (monitoring the conversion rate, A/B testing, and making adjustments to your site).
Do you provide websites, graphics, branding, or video?
Websites: We are not a web design company and we do not build websites. If you are redesigning a site, we can work with your web agency to preserve the site's existing search engine authority and traffic.
Graphics: We do have a full time graphic designer and several graphic design partners who often collaborate with our team. We can provide graphic design for social media, websites, email templates, canva templates, infographics and other assets. 
Branding: We are not a branding agency, but we do offer a Content Branding Guide service that will help you establish your brand's perspective, tone, and the voice you use in your content and help you hone in on the areas of expertise your content should focus on in order to connect with your target audiences in a way that will benefit your organization. Contact us to learn more. 
Video and Photography: Video and photography is essential for digital marketing today. We have talented photographers and videographers on staff. Visit our Video Service page to learn more. 
Does your agency offer digital PR and link earning strategies?
We do not currently offer digital PR or link earning outreach services.
What are examples of digital marketing reporting, analytics, and other tools you leverage?
We use a variety of digital marketing tools for our clients including Google Analytics, Google Search Console, ahrefs, and SparkToro.
What does your 'B Corp' status mean?
A certified B Corp is a company that has been assessed by B Lab to meet requirements for positive social and environmental impact, and no or minimal negative impact. As with 'Certified Organic' food brands, Certified B Corps have to pass a rigorous vetting process by a third party certifying body. We are graded on our impact in 5 areas — Governance, Workers, Community, Environment, and Customers. You can see the breakdown of our score here.
How long have you been a B Corp?
How does a company become certified?
The first step is to take the B Impact Assessment. Different industries and internal practices unlock different question paths; our assessment included 220 questions. When you complete the questionnaire and reach the minimum score of 80 points, a B Lab representative will follow up with clarifying questions, ask for missing documentation, and conduct an interview. If you become certified, there is an annual fee based on your revenue. The process repeats every 2 years.
Anyone can practice taking the assessment — see where your company ranks!
Why are you passionate about being a B Corp company?
Being a B Corp has benefits – it signals our values, attracts employees and clients, and helps us build relationships with the other B Corps here in our local community and beyond. We also benefit by receiving discounts from fellow B Corps. Most importantly, our B Corp Certification gives us a concrete way to measure and improve our positive impact.
The main draw, however, isn't the impact of our single company but what we can build collectively. B Corps and B Lab are creating and modeling stakeholder capitalism. What if businesses are not just beholden to shareholders, but to everyone we impact–our employees, our communities, and our environment. We know we've inherited a problematic system, and B Corps are at the forefront of reimagining the status quo. Being part of that movement to do business better, to hold ourselves to higher standards, and co-creating a more sustainable and just economy feels essential to our ethics.
What did becoming a B Corp do for your company?
It holds us accountable to have a culture, systems, clients and actions that have positive impact, and highlights areas where we can improve. It's a stamp that makes our values visible, a badge that team members take pride in. From a partnership standpoint, our membership in the B Corp community has opened many doors and been the catalyst for significant relationships.
How does being a B Corp impact hiring, partnership and client relationships?
As a Certified B Corporation, we choose to work with clients who are making a positive impact—including social enterprises, mission-driven companies and nonprofits, and businesses that give back to their communities.
Can we help you solve your digital marketing challenges and achieve your organization's goals for growth and impact?