Our team collaboratively decided upon and defined our company's core values after much discussion and reflection. Our values guide us as we create our company culture and select prospective team members, projects, and partners. They serve as an inner-compass, bringing us back to why we do the work that we do, and how we can continue to evolve, together.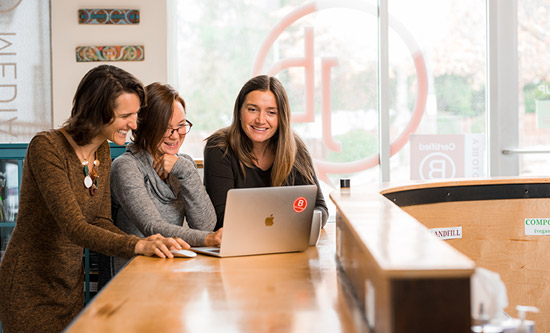 Our Clients' Best Interest
We strive to do the right thing for our clients. We see ourselves as part of your team and are highly motivated to help you succeed. For every project, we align our strategy with our client's goals, needs, and budget. If we're not the best fit, we recommend vendors who can better serve you.
Strong relationships are at the foundation of our company. We show respect, communicate with courage, listen deeply, and express gratitude in our words and actions. We contribute to a healthy and empowering workplace culture and seek opportunities for connection and collaboration with our clients, colleagues, and community.
We are thoughtful about how we spend our time and energy. We pursue excellence on the job and work to deliver the very best to our clients. We also support each other's efforts to live our best lives now and in the future—pursuing our personal goals and dreams, spending time with loved ones, and taking care of our full selves—bodies, hearts, and minds.
We are committed to our own growth—as people and as experts in our field. We see learning as a daily practice that includes listening, questioning, and stretching ourselves. As part of our learning process, we collaborate and make informed decisions based on sound data and research. We believe that creative, effective solutions grow from trying new things, measuring results, and refining our approach.
We contribute to positive environmental and social impact, locally and globally, through our work and volunteer efforts. We believe in the sanctity of the natural world and the dignity of every human being. We offer our time and talents, individually and as an organization, to serve alongside those that are working to create a better world.