Canva is an easy-to-use, free application design tool that is taking the design world by storm and empowering businesses to design their own social media ads (and just about anything else from presentations to business cards to posters). You have probably come across compelling ads on Facebook or Instagram and assumed they were made using expensive design tools such as Photoshop or Illustrator, but you might have been wrong. Canva is a cheaper and easier alternative that any brand can use to start building visually striking content. Although every tool has it's pros and cons (we've definitely got some Adobe fans in the house), we wanted to focus on Canva for this post because of how accessible it is.
If you are a small business owner or start-up company trying to get recognized while establishing your brand, using Canva to create visually engaging social media content that will resonate with your target audience will help you gain recognition that can fuel the growth of your business.
Although Canva is free to sign-up and use, upgrading to Canva Pro will provide many more additional features you cannot get with a free account. One of the benefits about Canva being an online platform is that it's easy to access by your phone or tablet if you're the type of person who is not always on a computer. Plus, it's exceptionally user-friendly with pre-made templates for whatever design pieces you may need.
The Top Benefits of Canva Pro for Businesses
Here are six of the top reasons why you should be using Canva Pro to enhance your business's social media content right now and suggestions for how to get the greatest benefits.
1. Keep all of your brand assets in one place.
Photos: Imagery is the most important part of social media content. According to research by Buzzsumo, Facebook posts with images see 2.3X more engagement than those without images.  Not only does Canva Pro offer unlimited storage of your own images but it grants you access to millions of photos starting at just $1 each from a stock media library that seems to keep growing with time.
Canva Pro also allows up to 100MB of storage for all of your designs and you can create an unlimited amount of folders to help keep things organized.
Fonts: Canva already offers over 3,000 fonts to choose from, but Pro allows you to upload any specific fonts for those businesses that need to follow more strict brand guidelines.
Color Palettes: Stay on brand and manage your brand colors from your Canva Brand Kit to keep your brand identity consistent across all of your designs.
2. Choose from pre-made templates and pre-set sizes.
Feeling like you don't have the design skills to start building a graphic from scratch or running short on time? One fantastic feature of Canva Pro is their hefty selection of templates and pre-set sizes ready to use in a click. These templates are already designed for you, where all that is left for you to do is change out your brand colors, fonts, imagery and logo.
3. Easily adapt and resize your designs with just a few clicks.
Once you've successfully designed a Facebook banner, you remember that you need that same ad adapted for Instagram, or possibly Eventbrite or MailChimp. But one image size just simply won't work for every social media platform. With Canva Pro's Magic Resize button, you'll be able to alter the size of your design to a variety of templates with just a few clicks. You can even change the dimensions of one design into several different design types at the same time!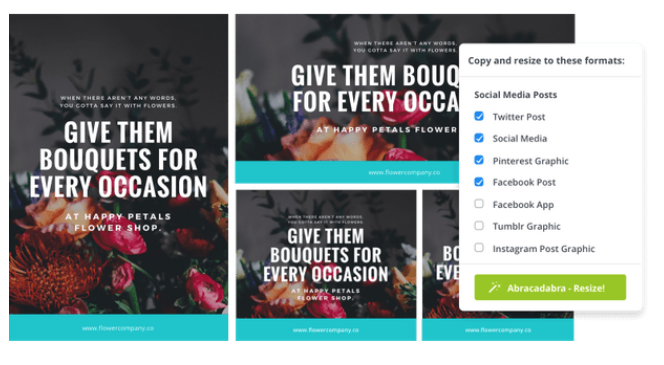 This design tool has most social media platform image sizes listed out for you, but there is also an option to customize to specific dimensions if needed. Indeed, magical!
4. Stand out using Canva's Animator tool.
Viewers tend to connect more with video messaging. Social Media Today research shows that in 2020 54% of consumers prefer video over any other kind of content. You can expect that number to grow in the future. If you want to take your ad to another level, try incorporating animations and GIFs into your designs. This will really bring your designs to life and is a surefire way to grab a viewers attention.
Want to make your own animated GIFs? Here is a great tutorial on how to create your own animated GIF or video.
5. Design now, post later by scheduling your media directly with Canva.
Between applying the right template and then scheduling directly from Canva, you can design and plan your upcoming social media content in advance to your favorite social networking platforms. This is a real game changer for those that are about saving time when it comes to design.
6. Create a team, add members and assign roles to them.
For any business, teamwork is the secret behind growth and success. By working together, everybody on the team can add something to the design process. Right now, there are two types of teams available in Canva: free teams and Canva Pro teams.
Free teams are available to all Canva users. Each free team can have up to 3,000 members. You can assign Administrator and Member roles to each team member. With Canva free teams, you are allowed to create up to 20 teams.
Canva Pro teams include everything the standard free teams can utilize, except as a Pro team you are able to assign members to the role of Template Designer. Learn more about the descriptions of each role here.
Whether you choose a free account or Pro account, you'll still be able to create a mass variety of engaging and compelling content that will entice your targeted audiences and prospects. And, well, that's what marketing is all about!
How to Get the Most out of Canva Pro
Canva Pro is an amazing tool that can help your business create better social media marketing assets, but remember that great content will do little to fuel the growth of your business without a strategy. We know that it is hard to stay up to date on the latest social media tools, strategies, and trends. The JB Media team is here if you are looking for help increasing your reach or growth through social media strategies including organic content and advertising.
If you are looking for some strategic guidance to help get the most out of Canva Pro, contact us and tell us about your goals for growth.  Happy designing!