A Step-by-Step Template to Creating an SEO Content Strategy
Your content is part of your brand identity. It should support your organization's mission and business goals. Everything you write about—on your website, social media platforms, blogs, and other marketing materials—becomes what people will think about your organization. That's why you need to have a clear brand voice and brand strategy before creating your content creation and SEO goals. 
Once your brand voice is well-defined, it's time to dive into the content strategy process. This typically starts with a brainstorming session with internal stakeholders at your company. Next, look at what your competitors are writing and ranking for. Then, build a keyword list using free and professional SEO tools. And lastly, uncover the topic context and search intent. This process allows you to set realistic and appropriate goals for your digital marketing strategy. 
Whether you're developing an entire content strategy or just writing an individual piece of content for your website, this process will help you decide whether that content is worth your time to produce.
Below we will go further into this discussion to ensure you're creating the right content for the right audiences and that you know how to choose topics that will give you a realistic chance of building meaningful organic search engine traffic. Here's how to develop an effective, targeted, and strategically practical content strategy.
Step 1: Start With Keyword Research to Uncover the Best Topics and to Understand Your Audience's Search Intent 
Do we know why people are searching for your priority keywords and thought leadership topics online? Curiosity? To find options? To see reviews? Write a term paper? Make a purchase? To create strategic and effective content, you need to uncover the search intent of your keywords and topics to focus on the ones that best align with your business goals.
The easiest way to reveal search intent is to simply put your own search terms and topic ideas into the Google search bar. What results do you get? Are you seeing your competitors? Are you seeing your brand anywhere? Look at the results and see if the existing content aligns with what you plan to publish, and determine if your website can realistically compete with the organizations already ranking on the first page. You're on the right track if you can see yourself producing similar but higher-quality content vs. what's already found for your top keywords and topics. If not, you might need to rethink your topic to be more aligned with your business goals.
Step 2: Your Domain Authority vs. Your Competition
Once you uncover your audience's search intent and choose your priority topics, it's time to use data to determine what is realistic for your brand to create quality content on. This is where pro tools, such as Afrefs, Semrush, and BuzzSumo, come in handy. 
Let's take a look at an example. The Thirty Percent Coalition was looking to rank for keywords surrounding the topic of board diversity. First, using Ahrefs, we looked into their current Domain Rating (DR), which is an authority score (from 1-100) for the overall website, and compared it to the DR of other websites building content focused on similar keywords. Domain rating is calculated by looking at several factors, including the number and age of backlinks to the website, the quality of those links, and the relevance of the links. The higher the domain rating, the more likely Google will rank a website's optimized content higher in its search results.
Your website also needs to be well-organized, have a clean user experience, regularly publish high-quality content, and use an internal linking strategy to keep new users on the website. 
Thirty Percent's website, with a DR of 51, stacked up between the lowest and highest DR competitor websites for their priority keywords, meaning creating content around this topic would be effective and worth it.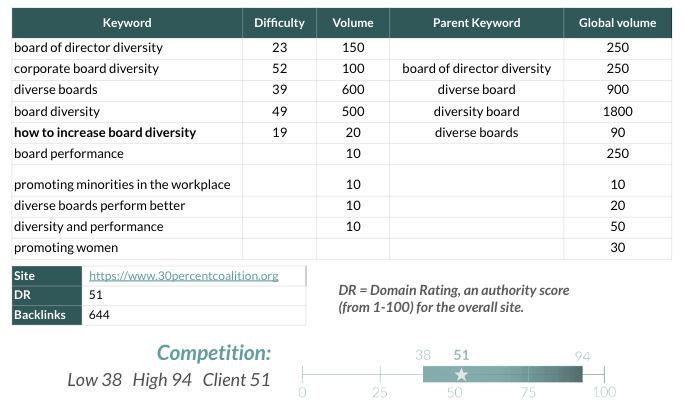 We were also able to identify the long-tail keyword "how to increase board diversity" as the best opportunity. This was due to its incredibly low difficulty, realistic search volume, and ideal match with the target audience that Thirty Percent was looking to reach. Other keywords had higher search volume but they were too competitive to use for their initial organic content effort. If their first effort to rank new content is successful, they will be ready to go after the shorter, more competitive keywords that could deliver even more traffic.
Tools like Ahrefs help you quickly understand competitiveness using DR to evaluate what search engine ranking positions are realistic.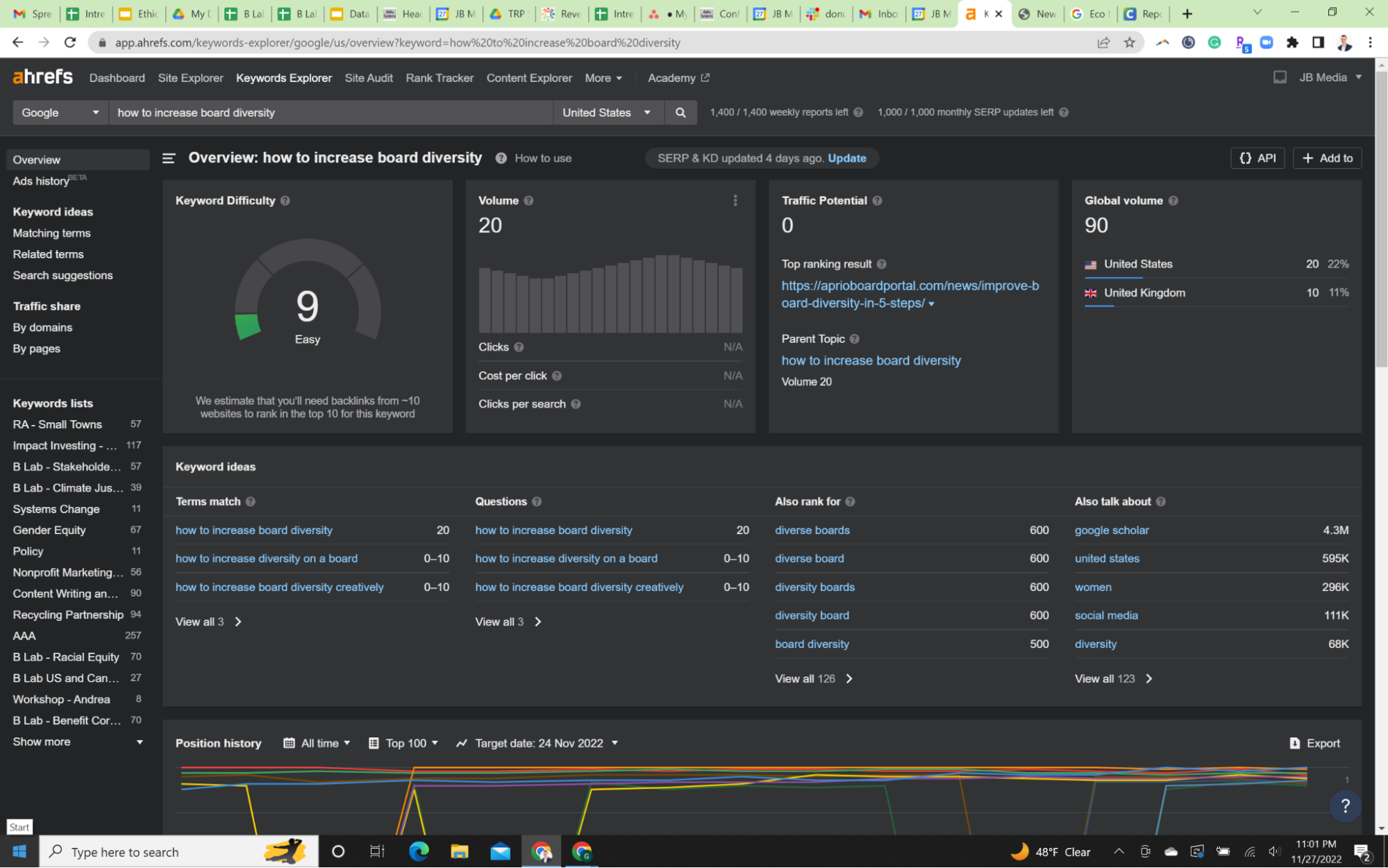 (Ahrefs Keyword Explorer [source: Ahrefs])
Step 3: Create Long-form, Comprehensive Content Written for Humans that Meets Search Marketing Best Practices
You've found a topic that aligns with your business goals and the search intent of a key target audience. Now it's time to write new content or improve existing content to give your website a chance to rank and bring in qualified traffic! Using the professional SEO tool Clearscope, you can easily create or improve content that will move your website up in search engine results pages. 
Clearscope uses AI and machine learning to process data scrapped for Google's results pages through IBM Watson and Google Knowledge Graph to quickly identify and easily communicate all the relevant sub-topics and related keywords and phrases that need to be added to your content to be truly comprehensive and authoritative.
Humans like to find easy-to-navigate, long-form content that fully covers their search topic, but it must also be easy to scan so users can find the most relevant sections they need. Google favors this kind of content which has caused a trend of longer content ranking higher (high-ranking content now surpasses 2,000 words for many topics). Our approach, along with Clearscope, helps clients create compelling content that is both great for human readers and works for SEO—both for the main topic and many related, long-tail topics.
Step 4: Setting Up and Tracking Conversion Data
Have you upgraded to Google's new GA4 web analytics? The Google Analytics platform is going through a major change that will culminate in the sunsetting of the old Universal Analytics (UA) version next summer. Our professional recommendation is that all businesses get set up on the new GA4 platform while keeping the old UA account in place to gather concurrent data for one full calendar year. Universal Analytics will stop tracking on July 1, 2023.
Having GA4 set up correctly is crucial so your business can track organic traffic from new content you're creating and make sure it's converting to your organization's goals. 
Need help with your Google Analytics migration? Get in touch with our team! We can help with:
Google Tag Manager setup (This is necessary for fully utilizing GA4.)

The basic setup of your new GA4 account

GA4 training

Migrating conversion tracking tags to your new GA4 account

Auditing your existing GA4 implementation
A Note for Nonprofits
If you're a nonprofit, we recommend using a Google Ad Grant, which offers most non-profits $10,000 per month in free Google search ads, to support your organic content marketing. These free Google Advertising accounts can help bring in qualified traffic to your website immediately and help people find your content quickly before it starts showing up organically. This will lead to more backlinks to your website, traffic, and conversions if your content topic is selected correctly and the right target audiences are looking searching for your content. 
Learn more in our Google Ad Grant Guide for Nonprofits and several blog posts we've written on the topic. 
Is Your Content Marketing Strategy Ethical?
Remember: Organic content that's valuable to your audiences and well-optimized content is part of a solid ethical marketing strategy. Evergreen content that ranks for the right strategic keywords can drive consistent business leads, sales, and organic search traffic without requiring ongoing paid advertising going to ethically questionable advertising and social media platforms. 
Ready to create the best type of content to turn your brand into the thought leader of your industry? Let us help you with all your copywriting and content needs. 
And make sure to sign up for our next Ethical Content Marketing Workshop on January 26 for a hands-on workshop covering the most ethical and effective approaches to building a data-driven content marketing strategy.