Search engine optimization is an ever-changing field of marketing that evolves not just because of Google's technology, but because of human behavior. The ways people use the internet and search engines has dramatically shifted over the last 20 years. In this recent Digital Drop-in, Justin Belleme and I discuss how SEO has evolved and what businesses and organizations need to know in order to increase organic traffic, improve rankings, and gain more brand recognition with the right target audiences.
I Get By With a Little Help From My friends
Justin has a different background than I do  in many ways. He graduated college with a computer science degree and became an entrepreneur early on in life. I, on the other hand, studied writing and literature and did not begin my first business until I was 28 years old. We were both attracted to the SEO field for different reasons, but when we began our professional relationship we had a few key things in common:
We believed  purposeful, useful content created to serve people was essential.
We knew testing and learning as you go is always part of the process.
We had learned a variety of industries, as well as  businesses and organizations of all sizes, could benefit from a deeper understanding of the role search plays in their marketing.
As we got to know each other better, I also realized Justin understood one of the most important truths about SEO—you can't do it alone. In order to stay relevant, keep on top of changes, and achieve results you need to connect with other experts, colleagues, and friends to exchange ideas, share data, and brainstorm. Even now, after 15 years,  I make an effort to build relationships with others in the SEO field. I pay attention to articles, webinars, videos, and other educational content created by people in our field because I know there will always be something more to learn.
What Do We Want? A Seismic Shift in Perspective about SEO! When Do We Want It? Now!
Recently when I attended WordCamp Asheville and WordCamp US I had the absolute pleasure of connecting, learning, and celebrating with many other SEO professionals. The most exciting thing I heard from everyone is that it's time for companies, organizations, web designers, web developers, and anyone else involved in marketing or business to shift the way they think about and do SEO.
Many marketing professionals and business owners doing SEO and hiring SEO agencies or staff are struggling. Not because they don't have the opportunity to achieve success, but because their knowledge of the way search engines work today is lacking. People are not aware of the changes that have happened in algorithmic technology and our industry so they base their thinking, decisions and strategies on antiquated information. They also fail to invest their time in education, collaboration, and testing. In reality there is no one-size-fits-all formula that works for every brand, so there are a lot of misconceptions and it's easy to be confused.
Busting SEO Myths
Myth 1: Search Engine Rankings Are the most Important Metric of SEO Success
Rankings still matter and you'll want to chart and keep track of them, but there's other trackable data that proves you are giving the search engines what they need. This includes stats like Organic Search Traffic and Backlinks.
Myth 2: SEO Is a Strategy You Only Have to Do Once
There's is no endpoint when it comes to optimizing your website. When you focus on SEO you can't expect to feel as if you ran a race and crossed the finish line. SEO requires more of a campaign mindset, it's a long game strategy. You have to invest time and money on a regular basis.
Myth 3: Search Engine Optimization Is a Singular Service a Professional Provides
In the past it was easy to say a business or organization was going to hire somebody to manage SEO. In today's world of SEO that is an oversimplification. Search engine optimization is now a process of discovering what opportunities you have to grow your online authority and there's different opportunities depending on the industry, type of business, kind of website, or desired conversions you want.  Search engine optimization evolved from being a singular service to being a conglomeration of services that have to happen if you want to succeed. They include:
Keyword research
Content creation
Content distribution
Link building
Website Usability
Conversion Tracking
Important SEO Essentials Everyone Should Understand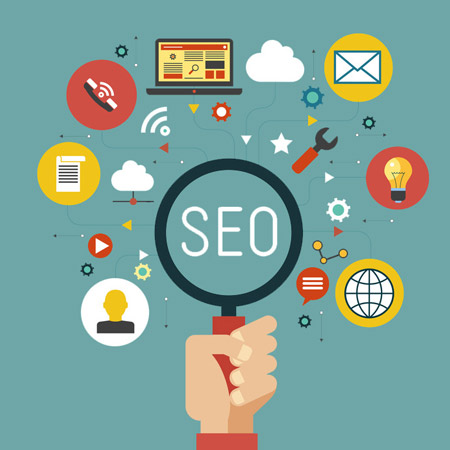 Web Accessibility – The Origin of SEO
Accessibility is about making all the websites on the Internet available to people with disabilities, regardless of the type of disability, whether someone uses a screen reader or other special tools to access the web. Web accessibility has always been of great concern to Google, and since 2015 more and more web designers and developers are focusing on this topic. It's now time for SEO professionals to make accessibility a priority and part of their skillset as well. Many early SEO tactics and best practices were already important to maintaining website accessibility and now website usability and accessibility are two important components of making your website Google, as well as human, friendly.
Semantic Search – Context Matters
One other big change in SEO over the last decade is what we call "semantic search," which allowed the algorithms to become smart enough to know that certain types of phrases and language are synonymous with each other. People have a myriad of conversational usages of words and phrases so it became important for the algorithms to better understand the way people were searching and the intent behind those searches. Improving the algorithms so they adjust results based on contextual meaning makes people's experience more useful, relevant, and valuable.
Machine Learning – AI Runs the Show
Google specifically calls the machine learning artificial intelligence it uses RankBrain. In today's world, algorithms learn on their own what results are the best based on human behavior which it identifies with many pieces of data. According to Moz.com, "To 'teach' the RankBrain algorithm to produce useful search results, Google first 'feeds' it data from a variety of sources. The algorithm then takes it from there, calculating and teaching itself over time to match a variety of signals to a variety of results and to order search engine rankings based on these calculations." Also when people type in a phrase or group of words that the algorithm has never seen before, it can relate the search queries to other queries it has already seen and ranked.
Why Do People Search – Intent is the Key
Currently, when you do keyword research, brainstorm content, and plan to optimize your website, you need to focus on how your content and website can connect with people's motivations and intentions. You want to understand why they are typing a specific search phrase and provide content on your website that connects with this intent. There are three common types of intent that have been identified:
informational or investigative – when someone wants to learn or explore a topic
navigational – when someone looks for a specific brand, company, or person
Transactional – when someone is ready to buy or hire
When you design and write your website pages it is important that they have purpose and meet the intent of the people you want to attract. Google's top priority is to return website pages at the top of the results that match the intent of the search query and provide the person doing the search with the best experience. This is why Google also considers website usability a priority when it comes to optimization. Google pays attention to different criteria and behaviors that prove people want to be on your website and can find what they want or need. Data like page load time, average session duration, mobile-friendliness, pages per session, bounce rate, etc., all indicate if your website is serving a clear purpose and engaging people.
Link Building is Half the Battle
Finally, one thing often forgotten in discussions about SEO is that half of the work you need to do is building links back to key pages of your website. Your page authority and overall website authority depends on the power of high quality links that also prove the value of your content, products, and services. There are different ways to build these links and your strategy needs to be focused on the long term since it will take time. Partnership marketing, Public Relations, local citations, and influencer marketing can all create opportunities to gain backlinks, while social media and email marketing can help increase brand recognition awareness and create more demand for your content. Together these strategies can be a powerful force for gaining authority and rankings.
There are No Tricks – Just Be Awesome
Overall the biggest mindset shift people have to make is to accept there are no one-size- fits-all SEO strategies or tricks you can do to get to the top of search engines. You have to put in the work to build an amazing website that serves people well. Being awesome and engaging people—that is how you increase your rankings and your organic website traffic. SEO requires a long term investment of time and resources. There are no shortcuts. If you need immediate gratification, then advertising is a faster way to get to the top of the search engines.