JB Media Group is a digital marketing agency that supports mission-driven companies, social enterprises, and nonprofits. Over the last 10 years the agency has grown to include the
JB Media Institute
, an education and training enterprise, and
RomanticAsheville.com
, a travel guide to Western North Carolina. We are a certified B Corp based in the beautiful mountains and creative epicenter of Asheville, NC.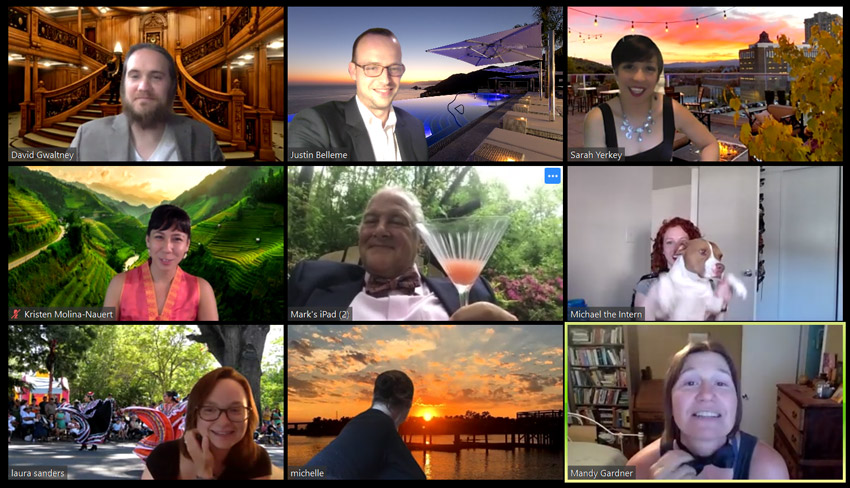 If you are excited by our mission and fully in sync with our values, we encourage you to apply to join our team! Before you submit your application, we understand that you might have questions about what it is really like to work at JB Media Group. Here are a few things you might want to know about our company culture before going through the application process:
Our founder believes that transparency is important and we take steps to make sure that news and information is freely shared among the team.
Our leadership team values staff expertise and insights and invites open dialogue regularly. We take time to discuss and address issues that come up during regular team meetings, quarterly planning sessions, and annual retreats.
We are B Corp Certified! We believe that business can be a force for good and we are proud to be part of the B Corp movement.
Service to people and the planet has been part of our company culture since the beginning. Our community involvement and JEDI (Justice, Equity, Diversity, Inclusion) initiative engages us in the critical issues of our times that we care about and keeps us connected on a human level.
We build into our staff capacity workload a devoted percentage of time for team culture participation and professional development. Most agencies don't factor that into their utilization rate goals.
Accountability is a priority within our structure and in our interactions with each other. We have an intentional organizational structure to provide clarity while avoiding strict hierarchy, and we practice Crucial Conversations to hold us accountable to healthy communication.
We respect each other as adults and have team leads to support and guide us, not managers to micro-manage us.
We have a professional judgment vacation policy which means we are self-directed enough to enjoy the benefits of flexible time off while ensuring our quality work crosses the finish line on time.
We are a committed team of individuals with a range of professional skills and personal passions. We embrace and strive for diversity across self-identities and experiences, and recognize that different thinking, learning, and communication styles increase the innovation of our team.
Ready to join us? Keep an eye on our current openings below!
I do want to commend the leadership team for leading us through the storm, and helping us come out the other side. Admittedly, I was terrified. But the ingenuity and collaboration of the leadership team was incredible at finding and obtaining resources (and clients!). All of this makes me feel proud and thankful to be a part of a team that cares about the people.
Content Marketing Strategist
This is a new role and is largely a strategy lead position, with a minor but essential hand in implementation. Key areas of responsibility include:
Client Vetting & Onboarding
Discovery & Research
Persona Development and Audience Intelligence
Content Marketing Strategy and Reporting
Strategy Deliverables and Presentation
Service Evolution
Client Communication, Training, & Reporting
Team Support & Development
You can see the full job description for details. This position will report to our company founder Justin Belleme, and be accountable for the team leads of Creative Development, Content Distribution, and Advertising.
What some of your goals will look like:
4 months
Complete onboarding, understanding of the team and their roles, and gain a firm overview of the company to articulate clear strategic paths for business evolution across our service areas of Creative, Distribution, and Advertising.
Attend, co-lead and eventually lead the weekly Strategy team meetings
Begin leading campaign strategies on a few projects/accounts.
8 months
Take lead on supporting and evolving key priorities of our strategy services.
12 months
Provide ongoing support to lead and address professional development for all team members involved in delivering campaign strategy.
Tools we currently use:
Ahrefs, Google Analytics, Facebook Insights, Google Ads, Clearscope, SparkToro and we are onboarding with Choozle.
On a daily operational basis, we use G-Suite, Slack and Asana.
About you
You are a marketing trend watcher with a strategist's eye guided by hands-on implementation experience. We are looking for a marketing specialist with experience over a range of industries. You may have worked in several smaller agencies or moved around within a larger agency and are ready for a greater leadership role. Your background includes and/or you have a strong interest in social impact businesses, and you share a genuine synergy with the values of JB Media Group. Ideally, you are based in or interested to relocate to the Asheville area, voted by Thrillist as one of the great American Cities for Creatives (but you probably already knew that).
Relevant Experience and Mindset
Ideally, you'll have:
5+ years in a content marketing role
A track record of direct implementation as well as content strategy work of omni-channel media planning including organic content, email marketing, digital advertising, and social media
Demonstrated success growing website traffic & driving revenue through content marketing
Exceptional ability to drive key business objectives with data-driven insights
Hands-on experience with SEO, PPC, web analytics, and social media platforms
Experience using analytics to understand the efficiency of content and digital marketing channels. Experience with Ahrefs, Google Analytics, Facebook Insights, and/or other social media analytics. Google Ads would be nice.
Comfort and agility in remote/distributed team working
Excellent written and verbal communication skills. Experience with the G-Suite, Slack, Asana and/or other similar team communication and project management tools.
A high sense of urgency, impeccable organization, and project management skills with the ability to work on multiple projects with many stakeholders
Strong attention to detail, highly entrepreneurial, persistent, and highly collaborative
Experience leading teamwork
A Bachelor's degree
Why you'll love JB Media Group
Salary of $50k-$55k plus annual pay raise and bonus, supplemental benefits, flexible scheduling
and paid time off
Not-your-usual company events with a team that enjoys playing together as much as working together
Company-organized volunteer days to support the communities that support us
Professional development is encouraged and supported, supplemented with peer-led training, and diversity and inclusion programs that help us learn, grow, and live out our values
A modern office with designs by local professional artists, although we are currently a fully remote company. When we see the end of the COVID pandemic and it is safe to do so, we plan to adopt a hybrid working model.
Think you have what it takes, but not sure you can check each point of experience we're looking for?
Reach out to us anyway. We are aware that imposter syndrome and previous discrimination in a candidate's experience can get in the way of us determining if you could be a great match with us.
To apply: Please submit your resume and a brief note telling us about your interest in the role and any other compelling information that we can't tell from your resume. Send this tidy bundle to: careers@jbmediagroupllc.com
We strive for Culture Add rather than Culture Fit and hold deeply our commitment to our values of inclusion and belonging. Our team is made stronger through diversity and by what makes you unique, so we invite you to bring your whole lived experience to the job.