2022 Guide to Ethical Digital Marketing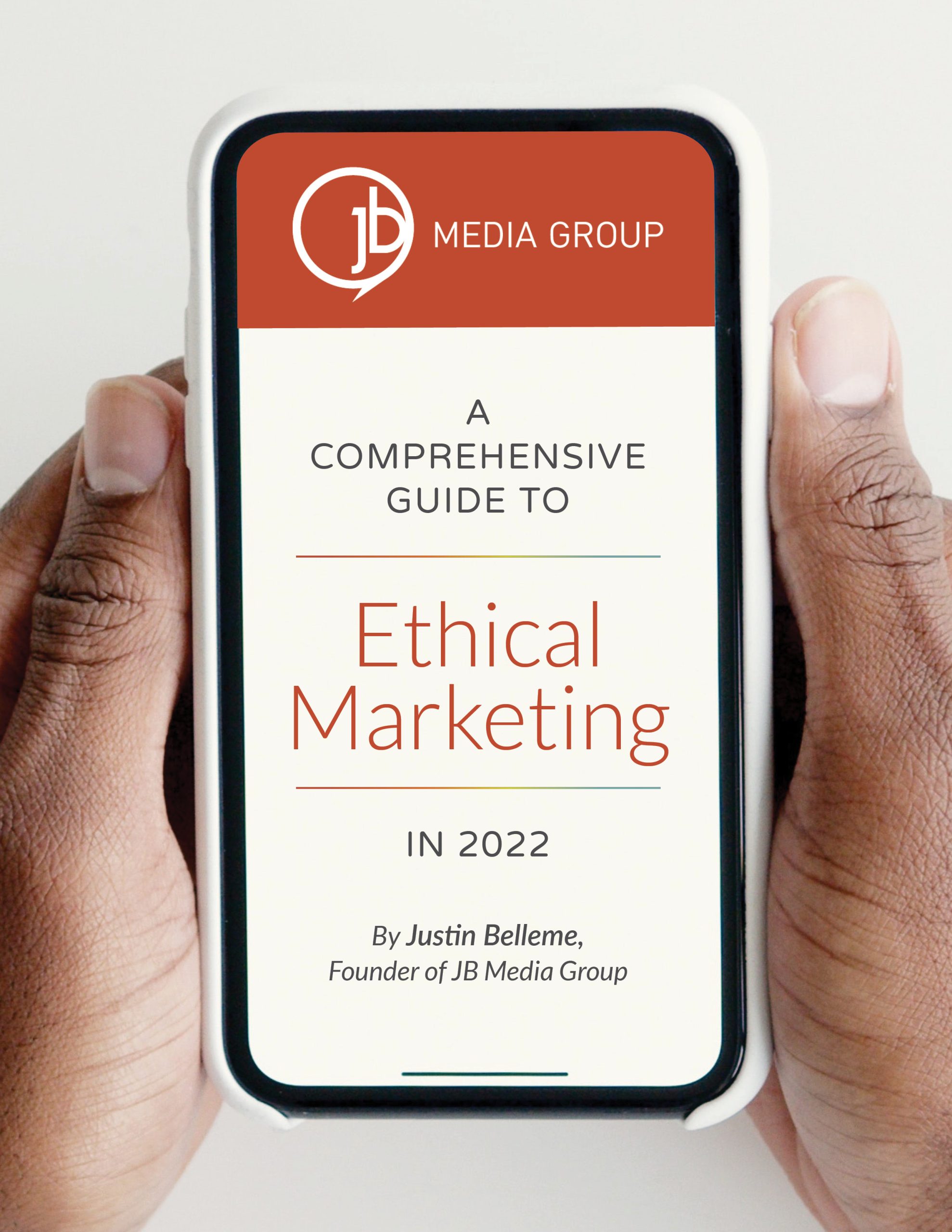 What are today's most effective ethical marketing tactics? Read JB Media Founder Justin Belleme's free guide or download the full ebook to get bonus interviews with ethical marketers from B Lab US & Canada, Acumen Academy & other orgs.
What is Ethical Marketing?
Ethical marketing requires honesty in all of your company's advertising and communications and principled behavior guided by thoughtful consideration of your business's impact on people and on the environment. 
Ethical marketing is still fundamentally marketing – it's the strategic delivery of targeted messaging designed to raise awareness of your brand and to sell products or services – but it's done in a way that demonstrates your brand's core values (and potentially your commitment to corporate social responsibility, stakeholder capitalism, or the B Corp movement). 
At strategic and tactical levels, the best practices for ethical digital marketing vary by platform and channel and the definitions and best practices change all the time. The line that separates ethical from unethical practices will continue to move at the speed of technological change. Google, Facebook, YouTube, TikTok, and other search and social applications regularly create new ethical dilemmas for marketers as tracking and targeting software gets more and more sophisticated. 
Not only are there concerns about the impacts of tracking and targeting on user privacy, there are also growing concerns about the negative social, emotional, and psychological impacts stemming from the use of some social media networks. Concerns about these potential negative impacts are broad and far reaching ranging from cyberbullying, social isolation, technology addiction, and body image issues to broader issues such as misinformation, fake news, and in some extreme cases challenges to democracy and fair elections.
To help you navigate this tricky, rapidly evolving landscape, we've put together this comprehensive guide to today's ethical marketing practices that features insights from five experts in the fields of marketing and communications.
How Leading Marketing Experts Define Ethical Marketing
The following quotes come from an interview series that Justin Belleme conducted with a variety of marketing experts. The full transcripts of these interviews are printed in the last chapter of his complementary ebook which is available for free download here.
Communicating with honesty and transparency builds more trust and connection with your customers, but it has to be grounded in a very authentic place.
Ethical marketing would be about telling stories that are rooted in truth.
The first step in companies marketing to people in ways that are ethical is telling me exactly who you are and what the benefit is for your product or service. Explain to me (the consumer), how your company will address my needs, add value and flavor to my life, and help me build a relationship with either you, the company, or the people around me using your products and services. Ethical marketing needs to be responsible in what it communicates and realize that it has a responsibility to be true and honest and authentic and to illustrate that value in unequivocal ways.
I would say that ethical marketing turns on this idea that what you do is an accurate reflection of who you are, in the sense that if a company has values, and the presumption of its existence is that it's going to play a meaningful role in the world and have a positive impact on people's lives, then that's what you deliver through your supply chain, through your HR department, and the culture you build through your employees, through the products you take to market and the way you innovate, through to the types of marketing you do, and ultimately to the impact work and community giving that you do.
Ethical marketing, in my view, is intentionally committed to clear and universal ethical principles, the first of which is "do no harm."
The Principles of Ethical Marketing
Coming up with a definitive or comprehensive list of ethical marketing principles is challenging due to the ever shifting technical landscape and the relative lack of transparency and understanding of how many of our most popular social networks and search engines track and utilize user data and to whom they share or sell that data. As a digital agency that values ethical practices and which works with a lot of nonprofits and social ventures, we have worked to identify a few key pillars that marketers should consider when evaluating their own efforts against the lens of ethical marketing:
Create Value
One principle that most marketers can agree on is that it's always a good idea to focus on creating value for your target audience. If you regularly deliver value you will build trust and establish a two way relationship.
Communicate Honestly
Honestly portraying your products or services may seem like a no-brainer, but in the world of sales and marketing there is often some element of hype, exaggeration, or overstaying facts to help influence a target audience and win business. Establishing a marketing principle based on honesty and defining lines your business or organization will not cross, makes it easier for people to speak up when the honesty of marketing messages is called into question. Having clear boundaries in place makes the conversation more about following a policy vs questioning someone's creative work.
Avoid Impact Washing
Impact washing is related to honesty because at its core the practices of overstating or exaggerating an organization's impact is a form of dishonest communication. Establishing internal principles and guidelines for how to identify and avoid impact washing is critical for organizations that are aiming to focus on creating value and communicating honestly.
Ask for Permission
Concerns related to user privacy and the ownership and use of user data are at the center of the global conversation about marketing ethics. The immense influence, power, and marketing control wielded by the largest social media and search marketing companies make this issue a challenging one to navigate. It's easy to fall into the trap of feeling forced to use whatever platforms are the most effective in order to keep up with your competition and meet your growth goals. Increasingly the tool of government regulation has been introduced to try to establish privacy and data ownership rights for individuals using online tools and platforms. As marketers we have a decision to make to either support these regulations and do everything in our power to proactively seek user permission to collect and use their data for marketing purposes.
Do No Harm
In addition to creating value, focusing on honesty, avoiding impact washing, and ensuring that your organization is a good steward of your users' data and privacy, our final recommendation is that you establish a policy of avoiding any marketing tactic or strategy that would do harm to your audience. The 'do no harm' principle can mean different things to different businesses. Some will choose to avoid using any platform that has been proven to cause harm to its users while others will focus more narrowly on their own efforts and tactics to ensure that their organization is not causing any harm via misleading, dishonest, or extractive practices.
We will explore these and other ethical marketing principles in more detail in later sections of this guide.

Honesty in Digital Marketing
"The most trusted brand is also the most profitable."
—Seth Godin
Integrity and honest communication are two of the qualities that a majority of consumers expect from the brands they purchase from.
Being honest in all of your communications, especially your digital advertising and marketing efforts, is a smart business practice in today's connected world. 
Exaggerations and false claims, however, are likely to damage your reputation and turn off consumers who can easily unsubscribe, unfollow, block, and report your company's content. Brands that  run the risk of being called out publicly on social media platforms and online review websites. False advertising, overpromising, and other dishonest marketing tactics routinely come back to bite offending brands in real time. 
Ethical brands communicate with honesty and transparency will build trust with customers and convert them to brand ambassadors. 
Examples of Dishonest Marketing Practices to Avoid:
False Advertising: Exaggerating values and benefits

Using fake or overly doctored reviews and testimonials

Inflating results when creating messaging for partners or within your advertising
In order to be an ethical marketer, you must be willing to

commit to absolute honesty in your marketing for both

your customers and partners.