Community Involvement
JB Media is based in Asheville, in the mountains of western North Carolina. As a company and as individuals, we're actively involved in giving back to the community we call home.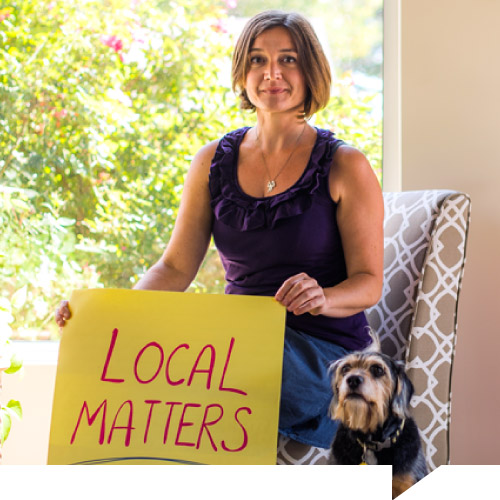 Company Support for Local Causes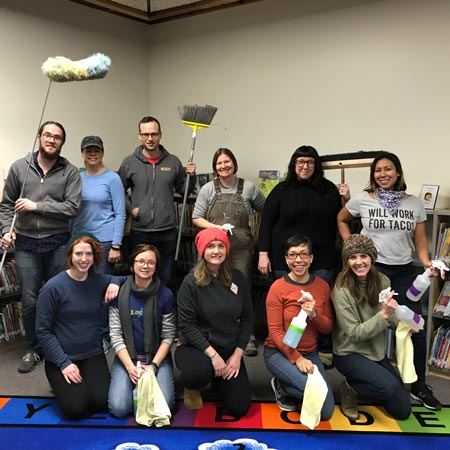 United Way of Asheville
On MLK Day in 2019, our team volunteered with United Way of Asheville and Buncombe County's Day of Caring. We cleaned and sanitized the classrooms at Asheville Primary School so teachers, students, and staff could return after the holiday to sparkling clean spaces!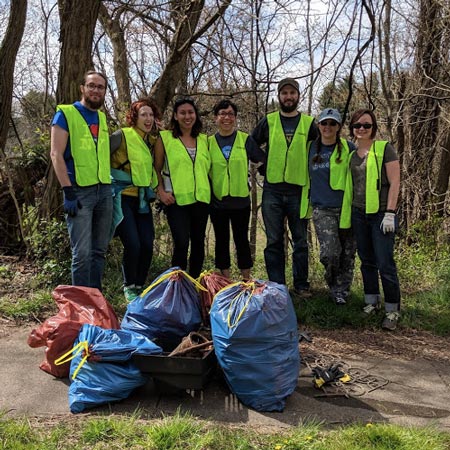 Asheville GreenWorks
In an effort coordinated by Asheville GreenWorks, we picked up litter in the nearby Southside neighborhood, beginning at the Dr. Wesley Grant, Sr. Southside Center.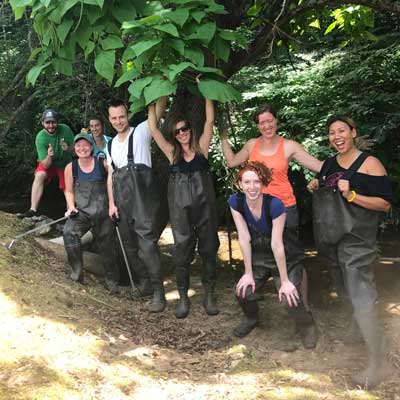 RiverLink
Every year, our company chooses a community service project to do as a team. Starting in 2016, through RiverLink, we adopted Smith Mill Creek, a tributary of the French Broad River that runs through West Asheville. Last spring, team members waded into the creek, hauling out plastic debris, tires, and even a shopping cart that was half buried in the creekbed (we learned about teamwork on that one!) We're committed to cleaning this stream at least once each year.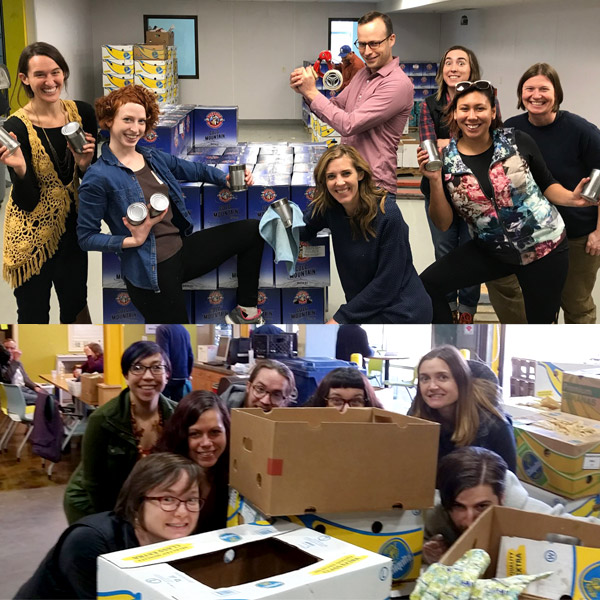 MANNA FoodBank
The JB Media team split up for two days of volunteering at MANNA FoodBank in 2018. One group helped label cans of food and the other sorted cucumbers and eggplants. With the 15.7+ million pounds of food they distribute each year, we know we only made a dent—but we are so thankful for the opportunity! (Don't let the Cold Mountain boxes deceive you, inside are just a few of the 5,040 cans of sweet peas we helped label and box.)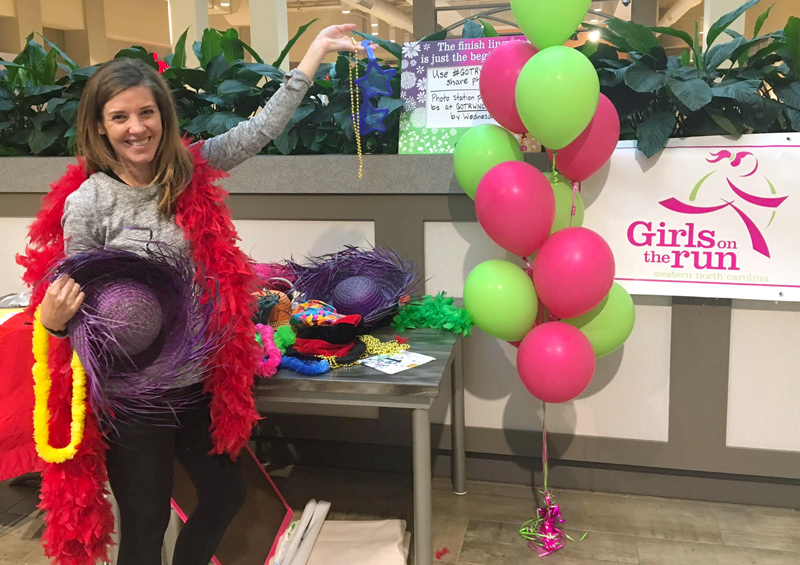 Leadership Asheville and Leadership North Carolina
Four of our team members have completed Leadership Asheville, an intensive nine-month program that develops leadership skills and promotes collaborative problem solving. The program brings together citizens from a cross section of our community, representing business, government, nonprofit and education. JB Media has sponsored several team members to complete the program. Leadership Asheville alumni on our team include Justin Belleme, Sarah Benoit, Adrianne Gordon, and Kathleen McCafferty. Justin has gone on to complete the statewide program, Leadership North Carolina.
Strengthening Asheville's Business Community
JB Media plays a leading role in strengthening Asheville's business community—improving residents' quality of life as we grow our local economy. We're active in programs that help entrepreneurs get their start, small businesses scale up, and big initiatives take roots. Some highlights of our involvement include:
We help individuals gain essential marketing skills through the

 

JB Media Institute.
We're active participants in networking and business development initiatives including

 

1 Million Cups and

 

Mountain BizWorks
Justin Belleme was awarded the Asheville Chamber of Commerce Entrepreneur of the Year Award in 2014.
We sponsored the Western North Carolina Women's Business Conference several times.
Our Team Loves Volunteering
Individuals on the JB Media
team
regularly serve our community by volunteering with local nonprofits. Current and past examples include:
Greeting and de-stressing passengers as they await their flights at Asheville Regional Airport with Puplicity Specialist and registered pet therapy dog

 

Lucy Shapiro.
Running the photobooth at the Girls on the Run 5k to bring some more to joy to an already fun and empowering day
Greeting Planned Parenthood patients and welcoming them to the health center
Tutoring non-native English speakers
Participating in a legislative response team to counter the potential defunding of Planned Parenthood
Supporting at-risk teen boys during their transformation into adulthood
Creating the e-newsletter for an independent, nonprofit radio station
Groups We Volunteer With
Our team members volunteer with all of the following organizations in our community:
Asheville Chamber of Commerce
Asheville Creative Arts
Asheville GreenWorks
Asheville Humane Society
Asheville Score
B Local Asheville + WNC
Camp Girl Boss
Community Roots
Democracy NC
FernLeaf Community Charter School
Fur Kidz Sake
Girls on the Run of WNC
Journeymen
Leadership Asheville
Literacy Council of Buncombe County
MANNA FoodBank
NC Stage Company
Our VOICE
Pet Partners
Planned Parenthood South Atlantic
RiverLink
Vance Elementary School
Veterans Healing Farm
WordCamp Asheville
My work tends to focus around the local entrepreneurship community, working with organizations where I really believe in the founders and want to help them achieve their vision.
As a small business owner who became a successful entrepreneur through the help, support, and generosity of others, I feel it is incredibly important to support others who want to build and grow a small business or organization. It is important to share experiences and ideas as a community because many times entrepreneurs initially work alone, especially in the beginning. It is key to have people around you who provide insight, truth, differing opinions, and a sounding board so you can make the best decisions possible and move forward in a way that is viable and sustainable.