You might be revolutionizing your industry. You might be changing people's lives. You might have a product that beats the pants off your competitors' products. But none of that matters if nobody knows about it. Even once you've produced a great website, guide, blog, infographic, or video, you're not going to get the full benefit unless you're actively distributing and promoting that content—whether that's through social media, email outreach, partnerships, influencers, advertising, or other outlets. You've gotten this far. Now, it's time to get the word out.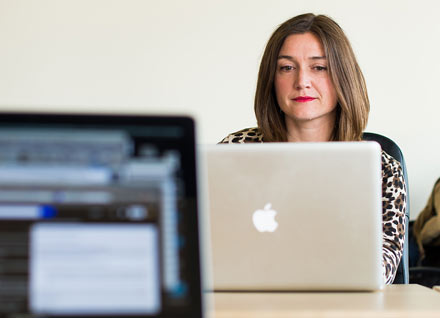 Where Should You Be Sharing Content Online?
There are so many channels where you could be telling your story, it's hard to know where to put your resources. We can help you identify who your ideal audience is and where you can find them online. And we can help you stand out from the noise in an increasingly competitive online landscape.
That might mean sophisticated audience targeting and promotion on social media. It might mean honing your email marketing for greater results. It might mean fostering one-on-one work relationships with influencers. Or, it might mean leveraging partnerships to reach wider networks. Regardless of what channel you're using, it definitely means listening and interacting with people, not just talking. We can help you get out there, connect with people, and engage them in conversation.
Social Media Campaigns
Social media is one of the best ways to reach new audiences and stay in touch with the people who are already interested. But you've probably already found that just because you post something doesn't mean it's reaching everyone in your network, much less your potential wider audience. We can help you expand your reach and your impact with strategic content generation, audience targeting, advertising, and promotion.
Email Marketing
Your email list is one of your greatest online marketing assets because it gives you a direct link to people who are already connected with your company or organization. When done well, email marketing is one of the most cost-effective ways to drive results. When mishandled, it leads to  annoyed readers, unsubscribes, and lost opportunities. We can help you develop smart email marketing strategies and run effective campaigns, including content creation, list building, automation programs, and engagement testing.
Partnership Marketing
Partner marketing is an often overlooked strategy that can hold great potential—at a fraction of the cost of other strategies . Also known as co-marketing, partner marketing is when two or more organizations support each other for mutually beneficial outcomes. For example: one company donates gear for a prize package in a contest sponsored by another company, and both companies promote the contest. We've seen amazing results from partner marketing campaigns and we share what we've learned in our ebook, Effective Marketing Partnerships.
Influencer Marketing
Leveraging the networks of influencers in your industry is a fast track to greater brand awareness and credibility. People with high impact can support your efforts through social media, guest blogs, video, and other content, or sponsored reviews of product. Whether these people are new to your business or have been following you for years, we can help you identify and develop the most important influencer relationships to drive awareness of your product and mission.